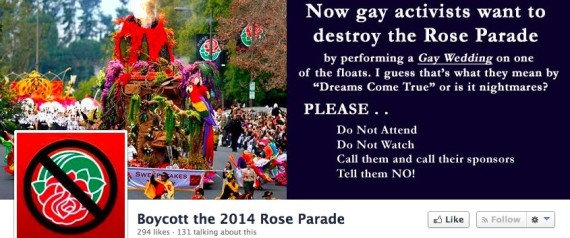 A small backlash is brewing over plans to include a gay wedding ceremony at the 2014 Rose Parade, which this year is themed "Dreams Come True."
Long-term gay couple Aubrey Loots and Danny Leclair are to be married atop the AIDS Healthcare Foundation's wedding cake-shaped float. Sharon Raphael and Mina Meyer, a recently-married lesbian couple who have been together for 42 years, will also
join Loots and Leclair on the float
.
San Diego resident Karen Grube
launched a Facebook page campaign
against the planned wedding ceremony, asking people to stay home and keep the TV off on the day of the Rose Parade to boycott the marriage equality message. Grube also encouraged people to contact Rose Parade sponsors like Disneyland, the Los Angeles Times and Taco Bell to voice their opposition.
"Now gay activists want to destroy the Rose Parade by performing a Gay Wedding[emphasis hers] on one of the floats," says the Facebook page's cover photo. "I guess that's what they mean by 'Dreams Come True' or is it nightmares?"
"Gay marriage is illegal in over 30 states, why would they promote something that is blatantly illegal?" Grube said to Pasadena Star-News. "That's just stupid."